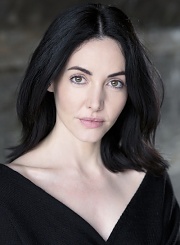 Caoimhe will next be seen on screen in The South Westerlies for RTÉ. She was last seen on stage in the remount of the Abbey's highly successful production of The Unmanageable Sisters
Caoimhe most recently appeared in Dublin Murders for BBC, RTE's Fair City, as well as the feature film The Randomer written by Gerry Stembridge, which premiered in the Galway Film Fleadh in 2016. Onstage she recently appeared in The Constant Wife, in the Gate Theatre, directed by Alan Stanford.
Recent theatre credits include Lisa in the highly successful Unmanageable Sisters at the Abbey Theatre, as well as Gloria in You Never Can Tell, at the Abbey Theatre, directed by Conall Morrison, and Mary Boyle in Juno and the Paycock, directed by Mark O'Rowe at the Gate Theatre.
She recently completed filming on Soulsmith, a feature film, written and directed by Kevin Henry and The Wave, written and directed by TJ O'Grady Peyton and Oscar Winning director Benjamin Cleary.
Caoimhe is from Dublin and graduated from the Gaiety School of Acting Full Time Acting Course in June 2011, and was awarded the Gaiety School Theatre Bursary in 2010. While at the Gaiety School she appeared in Macbeth and Twelfth Night directed by Liam Halligan and in Little Gem directed by Paul Brennan.
On screen she has appeared in the role of Elizabeth in Reign a CW Network produced TV Series directed by Brad Silberling, in the award winning short film Whatever Turns You On (TimeSnap Production) and in Rent A Friend (Kite Entertainment) as part of RTE's Storyland competition.
Caoimhe appeared as Baba in two productions of The Country Girls, written and adapted for the stage by Enda O'Brien, and directed by Mikel Murfi for Red Kettle Theatre Company in the Gaiety Theatre, Dublin, in Garter Lane Theatre and on tour. Other theatre work include Major Barbara, directed by Annabelle Comyn at the Abbey Theatre, and The Far Off Hills directed by Mikel Murfi for NOMAD productions at the Hawkswell Theatre, Sligo and on national tour. Caoimhe also appeared as Honor in Paul Howard's hit play Breaking Dad directed by Jimmy Fay (Landmark productions) at the Gaiety Theatre, Dublin. In early 2015, she reprised her role as Honor, in the sell-out remount of Breaking Dad in the Gaiety Theatre Dublin and in Cork Opera House. Caoimhe appeared as Vera in Brien Friel's version of A Month In The Country, directed by Ethan McSweeny, at The Gate Theatre.