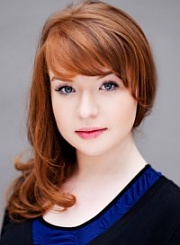 Caitriona was last seen on the Abbey stage in the leading role of Emer Hackett in The Fall of the Second Republic.
Recent theatre work includes A CHRISTMAS CAROL (The Gate Theatre), COUNTRY GIRLS (The Abbey Theatre's touring production), CUCKOO (Soho Theatre, London) directed by Debbie Hannan, ULYSSES (both in 2017 and 2018) at the Abbey Theatre, directed by Graham McLaren, PORCELAIN (Peacock/Abbey) directed by Cathal Cleary, A HOLY SHOW (Peacock), DUBLIN BY LAMPLIGHT by Michael West, directed by Annie Ryan (Corn Exchange, Abbey Theatre, Dublin). TEST DUMMY by Caitriona Daly, directed by Louise Lowe, nominated for Best Actress in the Irish Times Theatre Awards 2016 (WeGetHighOnThis in association with Theatre Upstairs), THE TABLE by Tom Swift (Performance Corporation in association with Boca Del Lupo, Magnetic North Festival in Vancouver), WILD SKY by Deirdre Kinahan, directed by Jo Mangan (Irish Arts Centre New York, and an Irish national tour), SCUTTLERS by Rona Munro, directed by Wils Wilson, movement director Eddie Kay (Royal Exchange Theatre Manchester), SPINNING by Deirdre Kinahan, directed by Jim Culleton, nominated for Best Supporting Actress in the Irish Times Theatre Awards 2015 (Fishamble: The New Play Company), SLUTS by Caitriona Daly(Edinburgh Fringe 2011), THE LARK by Jean Anoulih (Smock Alley Theatre) NARF by Caitriona Daly (Smock Alley Theatre), ANNABELLE STAR directed by Raymond Keane (The Ark) Betty in A WHISTLE IN THE DARK by Tom Murphy (winner: ISDA Award for Best Actress 2011), and Dzina in A COUPLE OF POOR POLISH SPEAKING ROMANIANS by Dorota Maslowska (nominated for best actress, ISDA 2010). Caitriona has performed with ANU Productions, directed by Louise Lowe in THE STATE COMMEMORATION, TAKING TO THE BED (Phizz Festival), THE BOYS OF FOLEY STREET, nominated for Best Actress in the Irish Times Theatre Awards 2012 (Dublin Theatre Festival 2012), THIRTEEN, nominated for Best Actress at the Dublin Fringe Awards 2013 (Dublin Fringe Festival 2013) and ANGEL MEADOW directed by Louise Lowe, movement director Emma O'Kane, winner of MTA Best Over All Production and Best Ensemble (HOME Manchester).
Caitriona has been acting since childhood, training at DADA, Dublin Academy of Dramatic Arts. She graduated from University College Dublin, where she completed a BA in English and Drama, served as Auditor of UCD Dramsoc (2010/2011) and completed her MA in Drama and Performance. During her time in UCD, she was awarded the Patrick Semple medal for outstanding academic achievement in Drama Studies, as well as the UCD President award. In 2011 she was awarded the Ad Astra Academy scholarship for Drama where she trained under Director-In-Residence Kellie Hughes. Caitriona went on to graduate from Bow Street's Academy for Screen Acting (2016). Caitriona is also Artistic Director of production company WeGetHighOnThis, who are dedicated to producing new work in both theatre and film.
Caitríona's feature credits include: KISSING CANDICE written and directed by Aoife McArdle (Venom Productions) which premiered in Ireland in 2018 and WE OURSELVES written and directed by Paul Mercier. Her TV credits include: DAWN (MGM/Hulu) directed by two-time Academy Award winner Robert Stromberg.