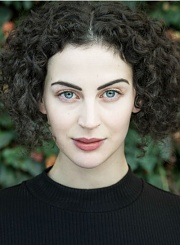 Breffni was last seen on stage in It was easy (in the end) at The Abbey Theatre.
Breffni is a Dublin/London based actress and voiceover artist.
Since graduating from Trinity College Dublin in 2015, she has worked extensively with leading Irish theatre companies such as Dead Centre (Chekhov's First Play), Collapsing Horse (The Water Orchard, Science Fiction Radio Hour, and Distance From The Event), Brokentalkers (This Beach), Anu Productions (VARDO), and Rough Magic (Enjoy, The Way To Heaven, and The Critic)). In 2015, she co-founded MALAPROP Theatre, devising and performing award-winning productions such as LOVE+ and Everything Not Saved.
Most recently, she appeared in Collapsible, at the Vault Festival in London and the world premiere of Frank Skinner's play Nina's Got News (BBC/Avalon).
Breffni will appear in the upcoming shortfilm adaptation of Everything Not Saved (RTE Storyland), and independent feature film Poster Boys.
Other screen credits include Fading Away (Filmbase feature), All Talk (independent shortfilm), Bright Eyes (Badger Hill), and Winter Sun I & II (Syracuze).