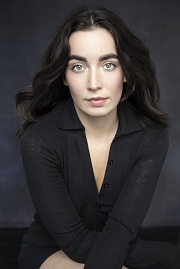 Aoife can now be seen on screen on BBC's brand new series Dublin Murders, on BBC One and RTÉ.
Aoife is from Malahide, County Dublin and in June 2018, she will be graduating from The Gaiety School Of Acting Full Time Acting Course (GSA). She was recently awarded the Andrew Huyler-Ramsay Scholarship from the Gaiety School 2017.
During her time here she played roles such as Emma in People, Places, and Things (directed by Maureen White), Horatio in Hamlet (Directed by Joe Dowling) and Grace in Faith Healer (Directed by Paul Brennan).
This year, Aoife was chosen as one of the 20 finalists out of 70 competing drama schools and will be representing the GSA as part of the Spotlight Showcase in July 2018.
Although Aoife is currently studying acting at GSA, another huge passion of hers is singing and song-writing. Last year and earlier this year she performed as part of the Dublin Bowie Festival in Whelan's.
Alongside her acting Aoife spent a year studying dance at The College of Dance during 2014. She trained in contemporary, ballet, jazz and tap. While studying hip-hop dancing at Backstreet Dance Studios, she travelled to Disneyland Paris to compete in the European Festival Of Dance and Performing Arts where her troop placed 2nd. Her troop also did a National tour with Wrigley's Chewing Gum during their "Bin It Your Way" Campaign during 2013.
Aoife has also achieved a distinction in her ATCL Musical Theatre Diploma through Trinity College London. Her most recent Musical Theatre performance was as Carrie in "Big Shot The Musical" in 2015 in The O'Reilly Theatre (Written by Lauryn Gaffney and Directed by Maureen Ward).