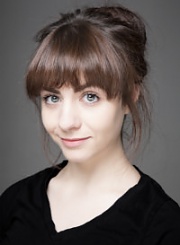 Amilia was last seen in the remount of the Gate's highly successful production of The Snapper
Amilia, a Dublin native, graduated from the Gaiety School of Acting in 2013.
During her time there she played such roles as Edie in Heroine for Breakfast, Directed by Joan Sheeny, Lily in Punk Rock, Directed by Gene Rooney and Sherbet in Fastest Clock in the Universe, Directed by Paul Brennan.
Her recent theatre credits include In our Veins (Maisie Lee, The Peacock Theatre), The Snapper at the Gate Theatre, Murder of Crows, by Lee Coffey, Directed by Karl Shiels (National Tour 2018), From All Side, by Lee Coffey, Directed by Aaron Monaghan (Dublin Fringe Festival 2017), Inhabitance by Peter Dunne, Directed by Ronan Phelan (Project Arts Centre 2016), A Boy Called Nedd, by Emily Gilmor-Murphy, Directed by Karl Shiels (Stuart Parker Nominated 2015), Beauty and the Beast, Directed by Vivian Coates (The National Concert Hall, Festival Productions) and Lee Coffeys acclaimed Leper+Chip, Directed by Karl Shiels (National Tour, NI Tour and Edinburgh Fringe Festival 2015, Broadway Baby Nomination, NYDT Nomination, NYDT Acting Excellence in performance Commendation 2015)
Her film/tv credits include A Dangerous Fortune, Directed By Christian Schwochow (ADF Productions Ltd), The Monk (Short), Directed by David Crann (The Courtyard Studios), Outside, by Emmet Kirwin, Directed by Nicky Gogan (Still Films), Mc Donalds Advert, Directed by Lorcan Finnegan (This Is Butter Productions), Normanstown TV Pilot, Directed by Pierce Halpin (Cinetex Films) and the series regular Katy O' Brien in RTE's Faircity.
Amilia is a founding member and Artistic Director of Bitter Like A Lemon Theatre Company.
She is a classically trained soprano with a level 7 diploma from The Conservatory of Music and Drama and has 4 badges for competitive gymnastics.
Amilia will appear in the world premier of Roddy Doyles, THE SNAPPER, in The Gate Theatre this summer under the direction of Roisin McBrinn.