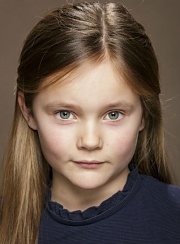 *to download videos, click play, then click the arrow on the upper right corner of the screen
Amelie will next be seen on screen in Float Like a Butterfly, which premiered earlier this year at the Toronto Film Festival.
Amelie recently appeared as Mia Carroll in Striking Out Season 2 for RTE.
She also appeared in Paula, a new TV drama by Conor McPherson for the BBC.
Amelie appeared in the 2015 Dublin Theatre Festival where she played the role of Young Gretel in Theatre Lovett's production of The True Story of Hansel and Gretel. Later in 2016, she will tour the UK and Ireland in A Feast of Bones written by Frances Kay and produced by Theatre Lovett. Since then Amelie has made her Abbey Theatre debut appearing as Masha in Anna Karenina in a new adaptation by Marina Carr, directed by Wayne Jordan.
Previously Amelie was in Camp Rock at The Helix produced by Theatreworx. Alongside acting, Amelie has a keen interest in gymnastics and is a very competent swimmer. She has a high level of spoken Irish, plays the tin whistle and has just started lessons on the violin. She is also an avid reader, enjoys roller blading and plays Gaelic football.