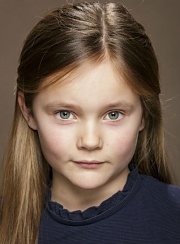 Amelie most recently appeared on screen in Float Like a Butterfly (written and directed by Carmel Winters for Samson Films) which premiered at the Toronto Film Festival 2018. She was last seen on stage in Hansel and Gretel at the Abbey Theatre.
She will soon appear in Miss Scarlet and the Duke (A + E Studios/Networks) which will air later in 2019.
Other film work includes: Vita and Virginia directed by Chanya Button and starring Gemma Arteton and Elizabeth Debicki, (Blinder Films).
On TV Amelie appeared as Mia Carroll in Striking Out Season 2 (2018) for RTE and in Paula (2017), an award-wining TV drama by Conor McPherson for the BBC.
Theatre experience includes: Anna Karenina in a new adaptation by Marina Carr (Abbey Theatre); A Feast of Bones (Theatre Lovett, Traverse Theatre Edinburgh, Birmingham Rep and Irish Tour); The True Story of Hansel and Gretel (Theatre Lovett, Dublin Theatre Festival); This Way to Christmas (National Concert Hall); Camp Rock (The Helix produced by Theatreworks).
Amelie's voiceover work includes: Mr Peeky's Zoo (RTE), Calle, A Greyhound of a Girl (forthcoming animated adaptation of the Roddy Doyle story).
Other skills: Amelie has a keen interest in gymnastics and is a very competent swimmer. She has a high level of spoken Irish and is an avid reader.